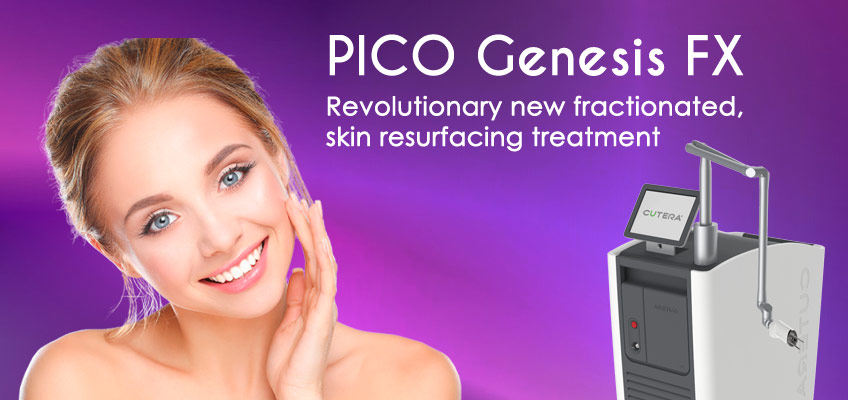 PICO Genesis FX is a revolutionary new fractionated, skin resurfacing treatment that effectively induces the production of collagen and elastin to correct texture changes due to aging, sun damage, scarring and wrinkles.
PICO Genesis FX – F.A.Qs
Is PICO Genesis FX Right For Me? How do I Know If I Am An Ideal Candidate?
With new and innovative technological advances, PICO Genesis FX treatments are ideal for all skin types. Additionally, the procedure is suitable for anyone who is seeking to improve aging skin, acne scaring, skin tone and overall irregularities with minimal downtime.
What Is The Difference Between the PICO Genesis and PICO Genesis FX?
 As both treatments are performed using the Cutera Enlighten III machine, the difference between PICO Genesis and PICO Genesis FX is that they each target different levels of the skin to address different skin concerns.
PICO Genesis: assists in reducing pigmentation and helps treat sun damage, uneven skin tone and reveals a brighter and more even skin appearance
PICO Genesis FX: targets skin at a deeper level and assists in diminishing the appearance acne scarring, skin texture and fine lines and wrinkles
How Many PICO Genesis FX Treatments Are Required?
The number of recommended treatments will vary based on the skin concerns that are being treated. While some of our clients may see results after just a single treatment, most need a series of two or three treatments for the best results.
What Does A PICO Genesis FX Treatment Actually Feel Like? Does It Hurt?
The majority of clients describe the feeling of this treatment as a slight pinching sensation. After the skin is cleaned, a topical anesthetic (numbing cream) is applied to the area(s) to help clients feel at ease and give them a good level of comfort during their treatment.
What Can I Expect From These Results?
Continued improvement in your skin happens for weeks following the treatment. Best results are seen at about 3 months following your final treatment, resulting in plumper, firmer and more youthful skin!
What Are Pre-Care Instructions for PICO Genesis FX?
Prior to your treatment:
Avoid wearing any makeup products on the day of your PICO Genesis FX treatment
Any hair on the treated area(s) must be shaved
No sun-tanning or self-tanners at least 4 weeks prior to PICO Genesis FX Treatment. This includes spray tans, tanning lotions, tanning beds, sun exposure, etc.
To ensure the treatment is more comfortable for our PICO Genesis FX clients, a topical anesthetic can be applied to the treated area(s) prior to treatment.
What Will Be Expected During The PICO Genesis FX Treatment?
 During your treatment:
It is important to notify your technician regarding any changes to your health history or any new medications since your last appointment
Photographs will be taken prior to initial treatment and over the course of your recommended treatments for future reference

The treated area(s) can be anesthetized with a topical anesthetic to improve your comfort during the PICO Genesis FX treatment
What Are the Post-Care Instructions For PICO Genesis FX treatments?
 After your treatment:
Avoid sun exposure for 2 to 4 weeks, and ensure you are consistently applying broad spectrum (UVA/UVB) sunscreen
Avoid any heat (such as hot tubs, saunas, etc) for 1-2 days after your PICO Genesis FX treatment
Redness and swelling are the most expected temporary side effects from PICO Genesis FX and will subside a few days after your PICO Genesis FX treatment
While the skin is healing, avoid any skin irritants (products containing tretinoin, retinol, benzoyl peroxide, glycolic/salicylic acids at least a few days after your PICO Genesis FX treatment

After your PICO Genesis FX treatment, one of our technicians will provide a detailed skincare guide and a gentle aftercare gel to assist with your healing.
To book your complimentary consultation appointment, call us at 416-548-6548 Book a Consultation